Dangers to children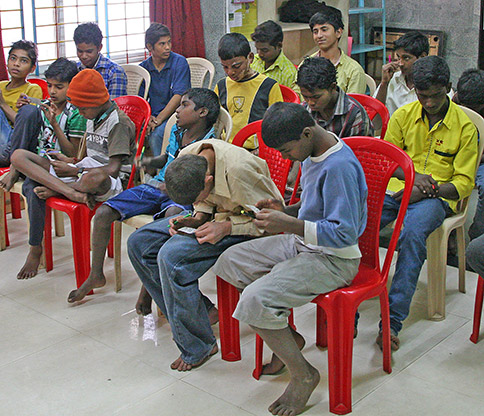 Children and young people in India are often the target of criminal activities for exploitative labor on the lowest standard of living, prostitution, child trafficking and organ trafficking. In Bangalore alone, around 7,000 young people disappear every year who are no longer found.
Child labor is common and necessary in poor Indian families. However, criminals shamelessly exploit the poverty of families, buy their children, often make them lifelong dependent, and prevent any education and any chance of better living conditions. India legally prohibits child labor under the age of 14. Big companies also largely implement "No Child Labor". In the preliminary stages of production, with subcontractors and small businesses, however, the risks are extremely high and usually uncontrollable.
The MF wants to reduce the dangers of exploitation of young people at least selectively. The magnitude of success chances is considerable: In a project in Bangalore, until the beginning of the Covid 19 pandemic, around 1,000 children / adolescents per year were saved from criminal access.
project topics:
Rescuing unaccompanied children and adolescents from criminal smugglers at train stations, bus stations and roads, temporary accommodation and care, repatriation to families and initiation of stabilization measures.
Protection for girls with high life risks: family poverty and breakdown, orphans, former street children, child laborers, garbage collectors, often burdened by abuse, violence and child trafficking. Family-like accommodation in care facilities, school attendance and care until possible return to the family or accompaniment to secondary schools, vocational training, job or marriage.
School attendance and training for former child laborers. Made possible through compensation to the parents, i.e. food and household items for the renunciation of child's labor.
project partners (examples): BREADS Bangalore (Social Society of the Salesian Order) . Don Bosco Mondo e.V. . Salesian Sisters of Don Bosco (FMA) . H.E.L.G.O. e.V., Calcutta and Hamburg

Next project field